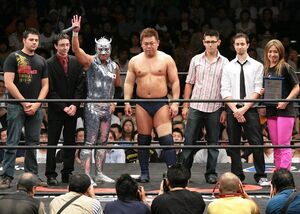 The Ultimo Dragon 20th Anniversary was an Ultimo Dragon Productions event. It took place on July 22, 2007 at Korakuen Hall in Tokyo, Japan. It drew roughly 1,120 fans.
Overview
The show was one of two events to celebrate the twentieth anniversary of Ultimo Dragon as a professional wrestler. The first occured in Toryumon Mexico on May 13, 2007 with DragonMania II. This event would serve as the Japan-based celebration while the earlier was Mexico-based.
Kanjuro Matsuyama served as the special guest referee in the singles match between Mima Shimoda and Yumiko Hotta. Matsuyama would be accused of sexually harrassing the competitors, at one point feeling up Shimoda in the guise of performing a full body check. He would fast count Shimoda's pin over Hotta in an attempt for appeasement. However, hardly any one was happy about his actions and it was decided that there would be a Three-Way Dance with all three involved. While this would be seen as giving Matsuyama a pass to continue with his actions, Shimoda would ultimately pin Matsuyama for the victory. Shimoda herself would be celebrating her twentieth anniversary as a professional wrestler the following month.
Kazuchika Okada was given a graduation ceremony following his match as he would be joining New Japan Pro Wrestling and moving up in weight class from junior heavyweight to heavyweight.
Results
Community content is available under
CC-BY-SA
unless otherwise noted.