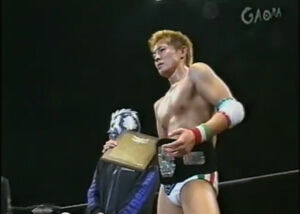 The T2P Strongest Merit Assessment League, also known as the T2P Lucha Libre Classica League, was a singles league tournament held in Toryumon Mexico and Toryumon 2000 Project to determine the strongest wrestler within the 2nd Class of Ultimo Dragon Gym graduates. The tournament was held over the course of four days from February 17, 2002 through March 3, 2002. The winner of the tournament would not only be regarded as the strongest of the T2P class, but also be awarded the NWA International Light Heavyweight Championship.
Overview
Following the main event of the Descembarcamiento 2 show on January 23, 2002, Milano Collection AT challenged all of the members of the T2P roster to compete in a league tournament so that the strongest within the group would be recognized, similar to what Toryumon Japan was doing with the El Numero Uno league tournament. Toryumon President Ultimo Dragon took the challenge a step further by adding that the winner would be crowned the first NWA International Light Heavyweight Champion.
The tournament began on February 17, 2002 in Toryumon Mexico before resuming in Japan through T2P ten days later. At the end of the preliminary rounds, Block A and D each had a decisive winner in Milano and Masato Yoshino respectively. However, Block B and C had ties going into the final day on March 3. Block B had a tie between Shuji Kondo and Toru Owashi while all three wrestlers in Block C were tied. Thus, decision matches were held prior to the semi-finals, resulting in three rounds of the tournament being showcased in one night.
During the entrances for the finals, Milano was attacked by Don Fujii, who proceeded to kidnap his invisible dog Mikeru. At the end of the tournament, Fujii returned briefly to challenge Milano and all of T2P to "Come to Japan!" To combat the inevitable threat of Crazy MAX, Milano would form the Italian Connection with Yoshino, Stevie "brother" Tsujimoto, Takayuki Yagi, and Kondo, the latter four changing their names to fit their new-found Italian heritage. This would be the catalyst for the Toryumon Japan vs. T2P rivalry that would run through the remainder of the year.
Results
Block C Decision 3-Way Match: Anthony W. Mori defeated Stevie "brother" Tsujimoto and Takayuki Yagi (March 3 - 9:25)
Block B Decision Match: Shuji Kondo defeated Toru Owashi (March 3 - 7:57)
Community content is available under
CC-BY-SA
unless otherwise noted.