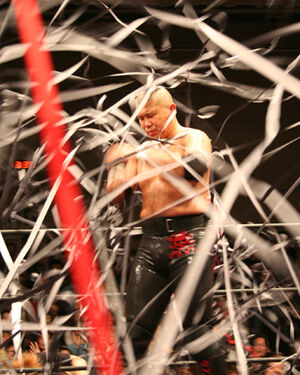 SUWA FINAL was an independent Dragon System event. It took place on March 11, 2007 at Korakuen Hall in Tokyo, Japan. It served as the last event in Japan for SUWA before retiring as an active professional wrestler and thus promoted the show himself, featuring a talent roster comprised mostly of Ultimo Dragon Gym graduates and select wrestlers from Pro Wrestling NOAH. It drew 2,100 fans.
Overview
Following his match on December 10, 2006, SUWA announced his intention to retire as a professional wrestler. Upon having his last match as a contracted talent for Pro Wrestling NOAH on January 21, 2007, he began touring around the world in preparation for his finale during DragonMania II on May 13, two days over the tenth anniversary of Toryumon and his debut as a wrestler.
In February, he announced that he would hold his last Japan match on March 11 in Korakuen Hall, featuring a card where the participants would be revealed on the show itself. Upon hearing about the Japan finale, CIMA and Don Fujii immediately asked to participate, even though there was a Dragon Gate show the same day in Saga. He responded by saying that their request was unexpected and ambiguously told them to bring their ring gear.
The show opened with SUWA saying if "Kuso gaki (CIMA) and Ossan (Fujii) came, they should come out now." This led to CIMA and Fujii appearing as promised with CIMA dressed in his Crazy MAX gear. CIMA did the Crazy Fucking pose in the ring for the first time in years. It became SUWA vs. CIMA with Fujii to second CIMA and TARU coming out to second SUWA. After the match, SUWA thanked CIMA for coming and CIMA returned the gesture, commenting on their ten year anniversary. Fujii added that he wanted to be there to see SUWA off since he was his debut match opponent. CIMA and SUWA held the ropes open for TARU and SUWA asked him to complete the original Crazy MAX for the final time. They shook hands and posed for the cameras. CIMA and Fujii would then leave almost immediately after to make it back in time for the night's Dragon Gate show.
Takuya Sugi competed as Little Dragon for the first time since the folding of DragonDoor, teaming with Ultimo Dragon for a special tag team match against Jinsei Shinzaki and Shinjitsu Nohashi. The idea being that the famous wrestlers (Ultimo and Shinzaki) were teaming with their respective minis (Sugi and Nohashi).
After the main event, SUWA received the traditional flower bouquets and the 10 gong ceremony from his original trainer Animal Hamaguchi and additional wrestlers from NOAH including KENTA, Jun Akiyama, Takeshi Morishima, and more. SUWA was given a body toss before everyone who remained posed for a giant group picture.
Results
#
Results
Stipulations
Times
1
CIMA vs. SUWA
Time Limit Draw
Singles Match
5:00
2
Aja Kong defeated Lingerie Mutoh
Intergender Singles Match
1:34
3
Jinsei Shinzaki and Shinjitsu Nohashi defeated Little Dragon and Ultimo Dragon
Tag Team Match
10:26
4
Go Shiozaki, Minoru Suzuki, and Yoshihiro Takyama defeated Akitoshi Saito, "brother" YASSHI, and TARU
Six-Man Tag Team Match
18:47
5
Shuji Kondo defeated SUWA
Singles Match
16:00
Community content is available under
CC-BY-SA
unless otherwise noted.