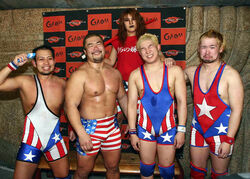 The Florida Express, sometimes known as The Florida Brothers, is a collection of gimmick characters that began in Toryumon Japan and crossed over into Dragon Gate. They are primarily comedy acts competing in the opening or mid-card position of every show. Though there was a point where there had been up to four members teaming together, they have never really been recognized as an official unit.
Members
Michael Iwasa
Identity: Taku Iwasa
Timeline: November 29, 2003 - April 23, 2006
Daniel Mishima
Identity: Raimu Mishima
Timeline: November 29, 2003 - April 23, 2006
Johnson Florida
Identity: Takayuki Yagi
Timeline: March 10, 2004 - Present
Kenskee Sasaki
Identity: Kensuke Sasaki
Timeline: September 17, 2004 - November 6, 2005
Jackson Florida
Ideneity: Koji Shishido
Timeline: July 3, 2005 - Present
Community content is available under
CC-BY-SA
unless otherwise noted.