Austin Aries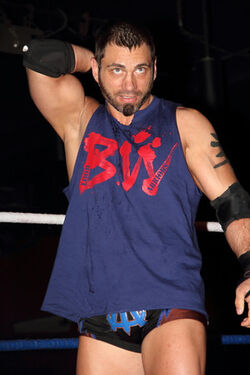 Aries during his breif stint in Blood Warriors
Born
April 15, 1978
Milwaukee, Wisconsin, United States
Resides
Los Angeles, California, United States
Professional wrestling career
Ring name(s)
Austin Aries
The Austin Starr
Dan Sexon
Suicide
Height
5 ft 9 in
Weight
202 lb
Billed from
Milwaukee, Wisconsin
TV Land
Trained By
Eddie Sharkey
Terry Fox
Debut
November 11, 2000
Dragon Gate USA (2010–2011)
On October 12, 2010, Dragon Gate USA announced that Aries had signed a contract with the promotion. Aries made his debut for the promotion on October 29 at the Bushido: Code of the Warrior pay-per-view, where he was defeated by Open the Dream Gate Champion Masato Yoshino in a non–title match. After the match, Rich Swann, whom Aries had offered to adopt as his protégé, turned his offer down. On January 28, 2011, at United: NYC, Aries defeated Swann in a singles match. The following month Aries started a storyline, where he claimed to have lost the motivation to continue his professional wrestling career, after failing to make the cast of WWE Tough Enough, before offering to put his Dragon Gate USA career on the line in order to get one last shot at YAMATO and the Open the Freedom Gate Championship. On April 2 at Mercury Rising 2011, Aries was unsuccessful in his challenge, thus seemingly bringing his Dragon Gate USA career to an end. The following day at Open the Ultimate Gate, Aries was defeated by Jimmy Jacobs in what was billed as his Dragon Gate USA farewell match. However, after the match Aries feigned passing the torch to Chuck Taylor, Johnny Gargano and Rich Swann, the trio known collectively as Ronin, before turning on them and joining the promotion's top heel group, Blood Warriors, claiming to have found his purpose under the leadership of CIMA. Blood Warriors and Ronin faced each other in a six-man elimination tag team match on June 5 at Enter The Dragon 2011, which Ronin won after Johnny Gargano managed to submit both CIMA and Aries.On June 9, 2011, it was reported that Aries had left both Dragon Gate USA and Evolve to reportedly pursue a career outside professional wrestling. Aries later revealed that he considered retiring from professional wrestling because he "didn't want to be Randy the Ram in 10, 20 years." However, he decided to continue wrestling after receiving an offer from Total Nonstop Action Wrestling.
Community content is available under
CC-BY-SA
unless otherwise noted.