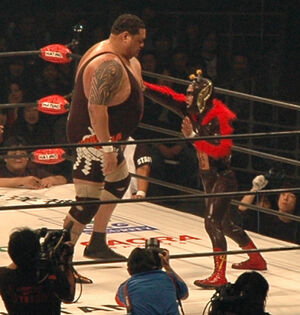 The "Hollywood" Stalker Ichikawa Bosou 10 Match Series is a ten-match trial series "Hollywood" Stalker Ichikawa undertook in Dragon Gate from March 2007 through July 2009. It is a follow-up to the original Stalker Ichikawa Bosou 10 Match Series from Toryumon Japan.
Overview
After Stalker Ichikawa "retired" in November 12, 2006, he returned a week later as Stalker Ichikawa Z. He also immediately announced his intentions to start a new Bosou 10 Match Series. The new series would follow the same premise as the first, where he, widely regarded as the weakest wrestler in the world, would take one some of the most famous opponents in the business. This time around, he promised fans that the names he competed against would be even bigger than his prior undertaking.
Following the first match in the new series, Ichikawa embarked on his first United States trip in May 2007. Upon returning, he changed his name to "Hollywood" Stalker Ichikawa, which has since become permanent. He did wrestle once in the series in cosplay fashion, becoming ICHIKAWA, a parody of the heel persona of his opponent Great Sasuke. ICHIKAWA would actually end up winning the match, as a result of Sasuke nearly killing himself, as usual. This would be the only victory gained during the new series, but it was still nonetheless far more successful than his earlier effort.
Results
#
Opponent
Date
Location
Result
Note
1
Jun Akiyama
March 25, 2007
Tsu, Mie
Akiyama in 4:50
Towel Throw -> TKO
Ichikawa competed as Stalker Ichikawa Z.
2
Yuji Nagata
July 1, 2007
Kobe, Hyogo
Nagata in 5:05
Left Middle Kick
3
Shinobu Kandori
May 5, 2008
Aichi
Kandori in 0:18
Wakigatame
Restart: Kandori in 0:33
Jujigatame
4
Great Sasuke
July 27, 2008
Kobe, Hyogo
ICHIKAWA in 6:23
Sasuke Senton Atomico from Ladder Jibaku -> Pin Fall
Ichikawa cosplaying as ICHIKAWA.
5
Necro Butcher
September 5, 2008
Bell Gardens, California
Necro in 0:18
Face Punch
Restart: Necro in 6:23
Tiger Driver
6
Shiro Koshinaka
November 16, 2008
Osaka
Koshinaka in 3:43
Diving Hip Attack
7
Akebono
December 28, 2008
Fukuoka
Akebono in 2:41
Running Body Press
8
Kensuke Sasaki
March 22, 2009
Tokyo
Sasaki in 1:30
Northern Light Bomb
9
Ultraman Robin
July 8, 2009
Tokyo
Robin in 7:11
Dos Caras Special
10
Abdullah The Butcher
July 19, 2009
Kobe, Hyogo
Abdullah in 2:34
Elbow Drop
Community content is available under
CC-BY-SA
unless otherwise noted.